#streetfighter

Sweeps everything out of the ring

Our SWE-19-60 sweeper comes in a sophisticated professional design for use on compact tractors from 22 kW to 44 kW. The sturdy steel frame makes the SWE 60 series sweepers the ideal high-performance professional machines for municipalities and service providers. For optimum sweeping results even on uneven terrain, the sweeper is equipped with yaw compensation as standard and has swivel wheels that can be adjusted in height without tools. The center drive with two V-belts makes it possible to sweep extremely well on both sides, even on obstacles in the edge area.
Highlights

Advantages and features

Pros and cons? With us there are only pros.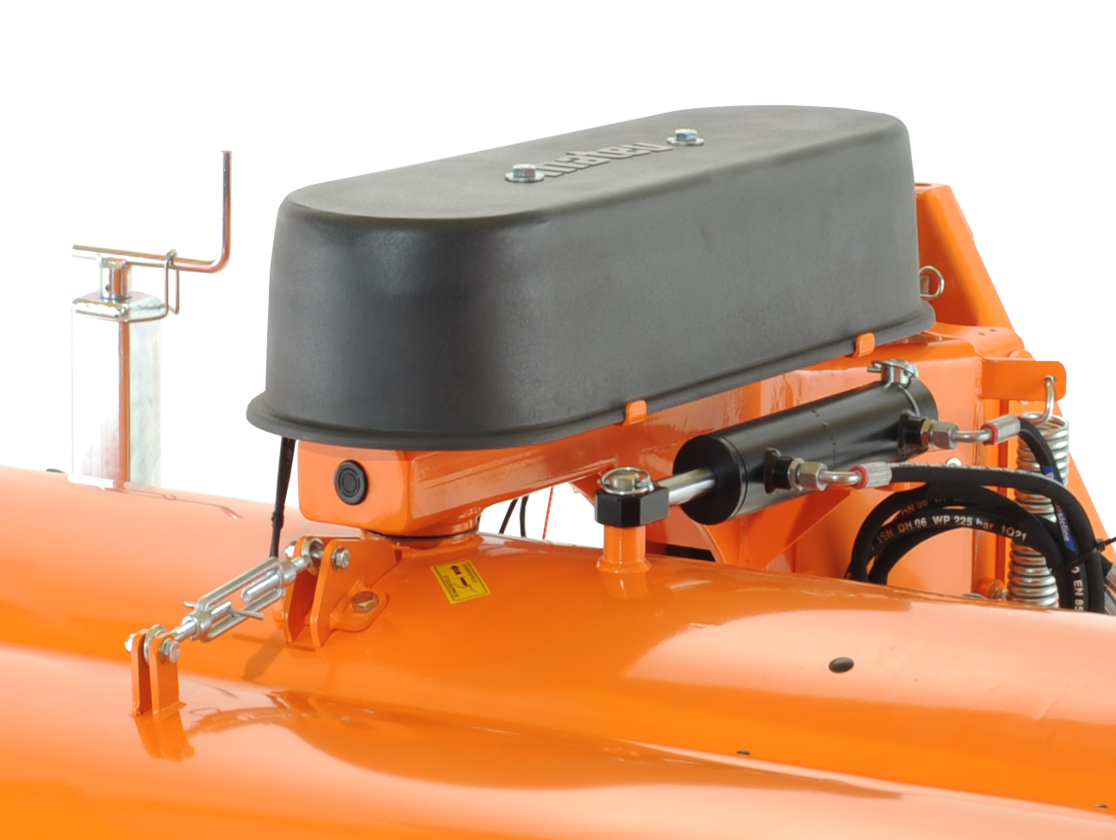 Hydraulic angle adjustment
The factory-equipped hydraulic angle adjustment improves the possibilities for adapting to a wide variety of conditions.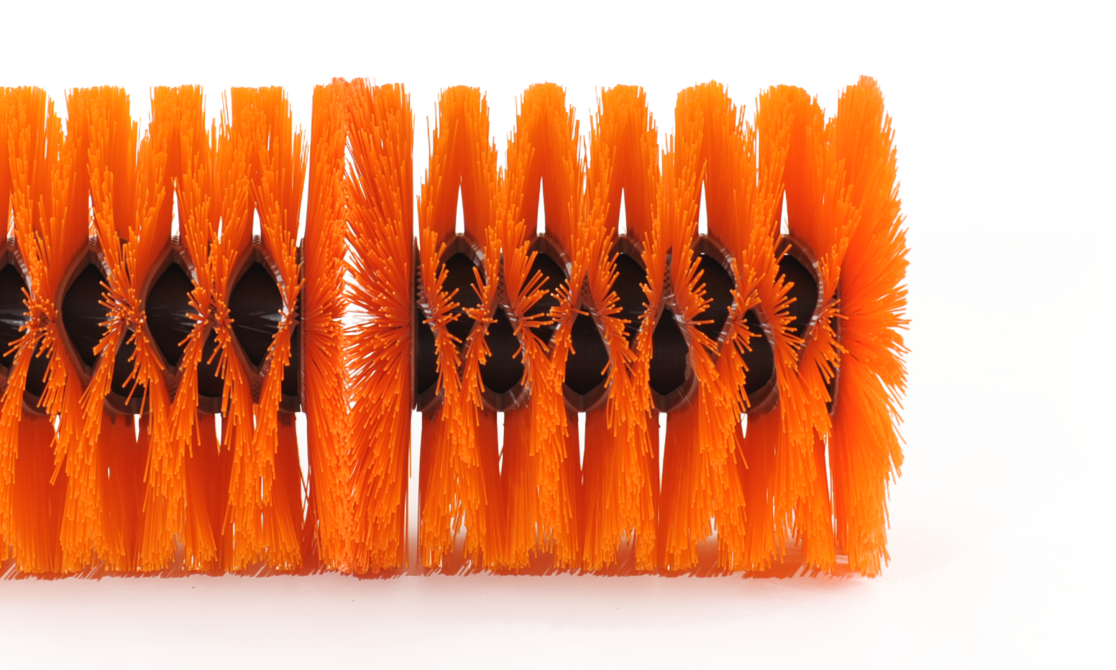 Wave-Power sweeping rollers
The sweeper rollers with matev Wave-Power bristles are ideal for both debris and snow sweeping in winter maintenance and make this sweeper an all-rounder for year-round use.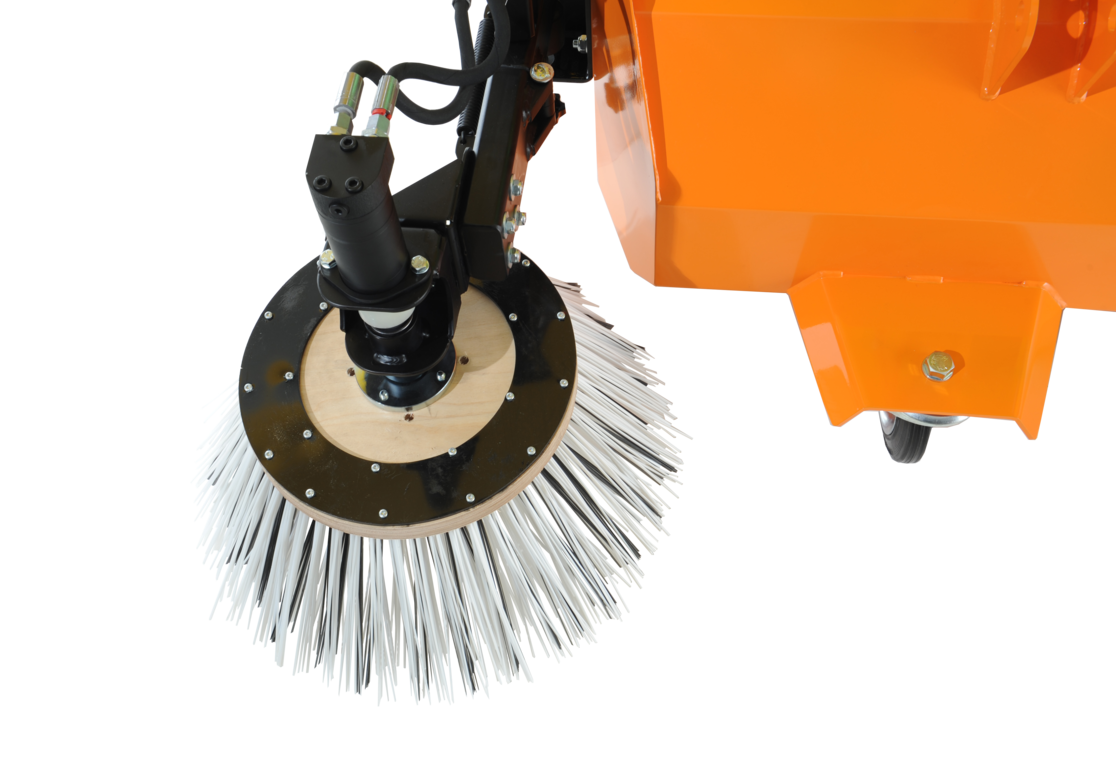 Side broom with various bristles
The optional hydraulic side broom with a brush diameter of 600 mm can be mounted on the right and/or left side of the sweeper and is available with various bristles (Perlon, steel/Perlon, steel). This allows the sweeper to be adapted to different applications, such as simple sweeping, but also the removal of heavier soiling or the removal of weeds.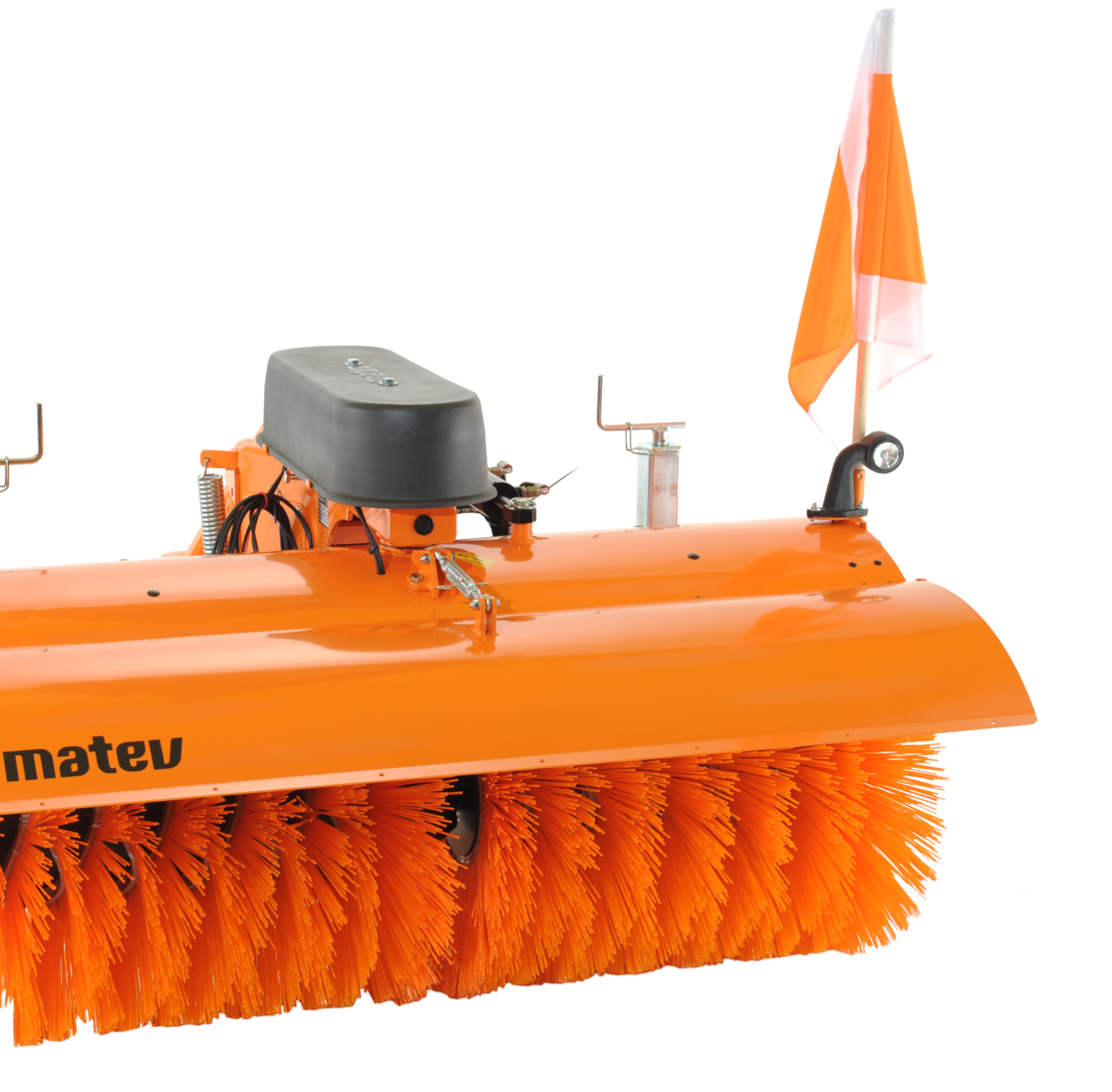 Splash guard 
For free sweeping, i.e. when used without a debris hopper, the use of the optional splash guard is recommended. A splash plate is also available as an option for use in winter maintenance. Both ensure that the swept material is not blown away.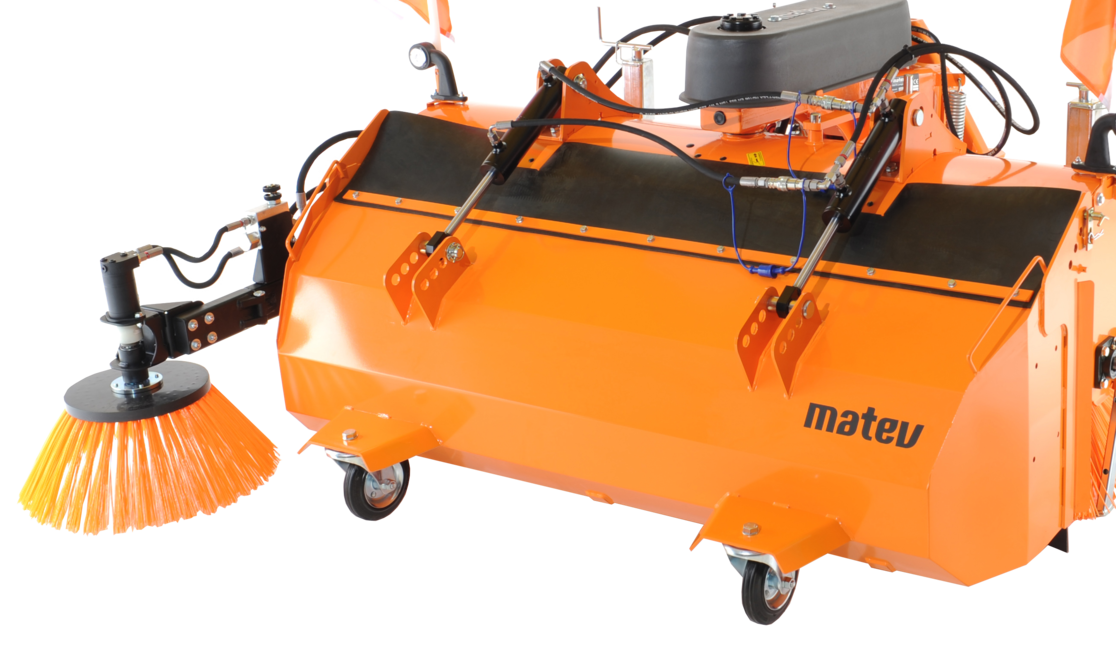 Debris hopper
The optional debris collection hopper with a capacity of 190 (217, 241) liters collects the swept material during the sweeping operation and can be emptied hydraulically afterwards.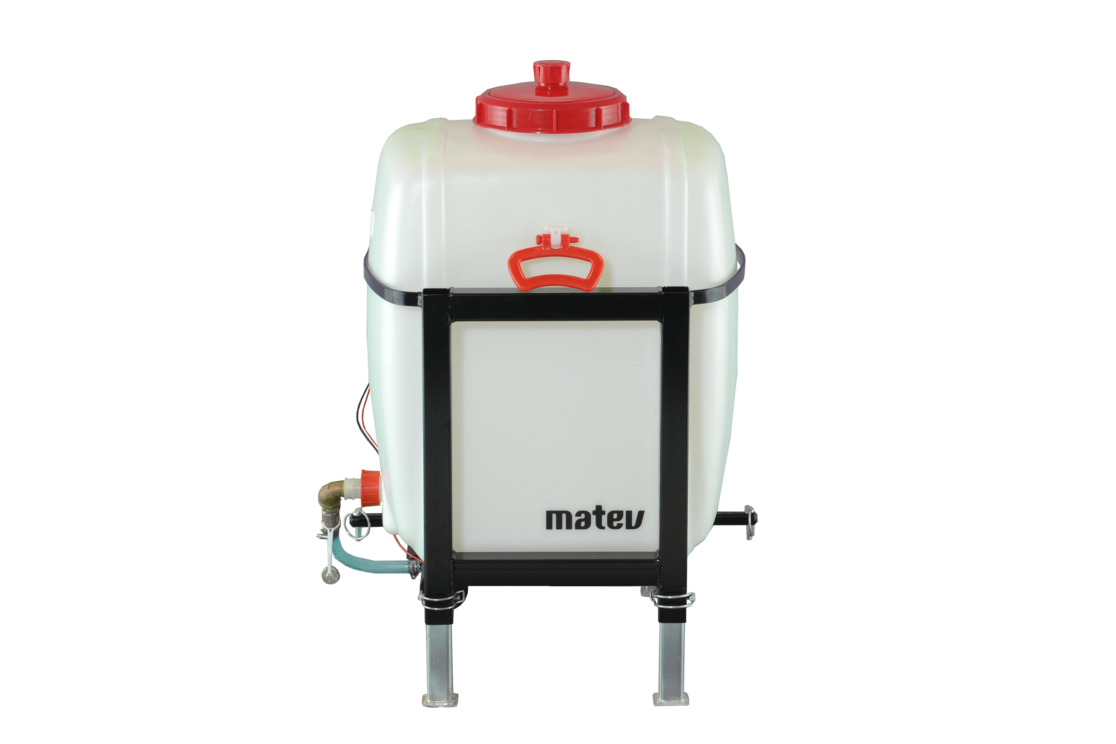 Water sprayer 
The optional water sprayer with 110 liter water tank and a 12 volt electric water pump applies water evenly to the surface with its 3 flat spray nozzles and ensures that dust settles and dust generation is significantly reduced during sweeping.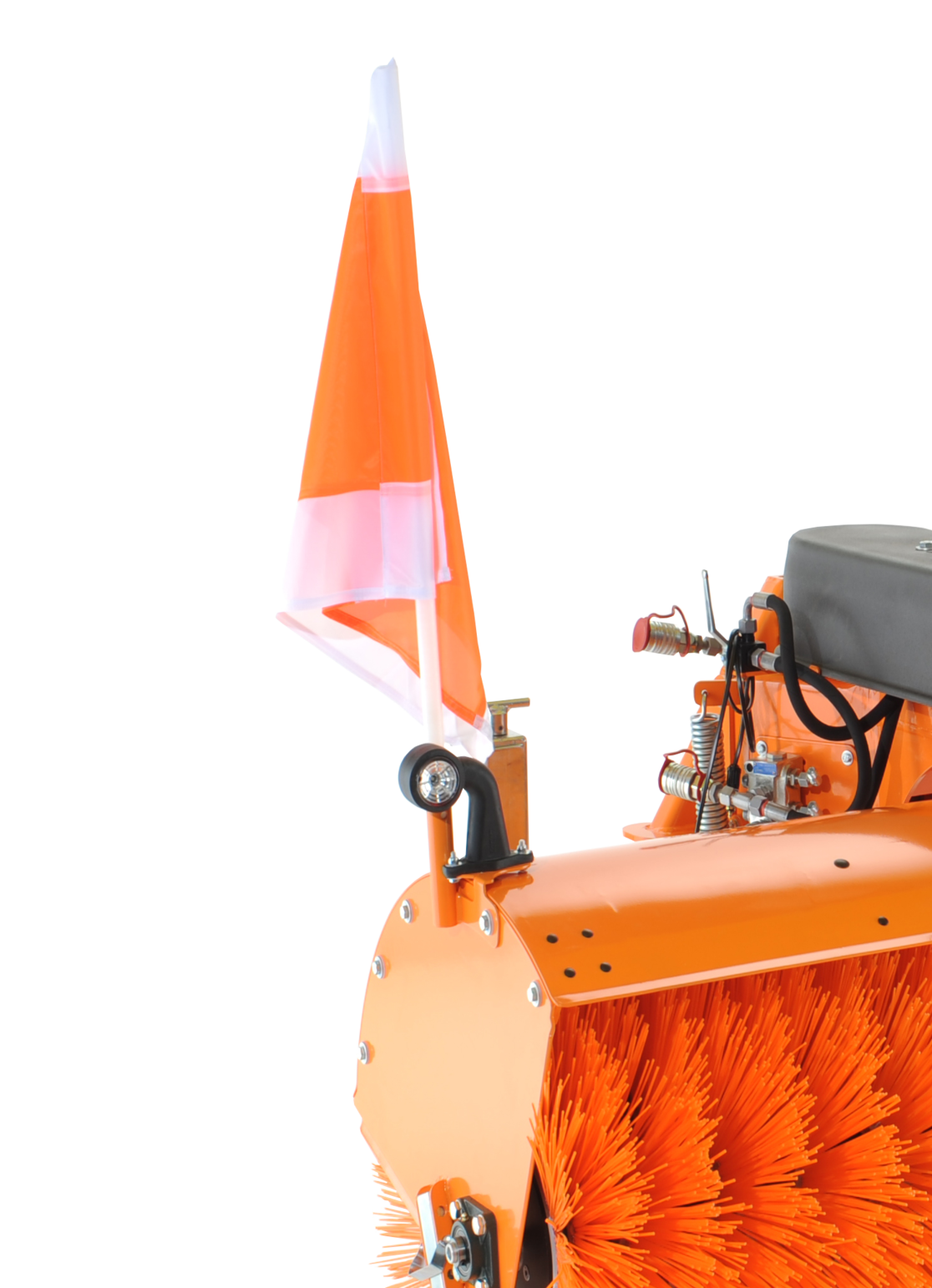 Side marker lights and warning flags
The optional LED marker lights and warning flags allow safe and comfortable work. 
Technical Data
| | |
| --- | --- |
| maximum | 1,900 mm |
| pivoted | 1,600 mm |
| | |
| --- | --- |
| Perlon | opt. |
| Steel / Perlon | opt. |
| Steel | opt |
| | |
| --- | --- |
| Cat. 0 | |
| Cat. 1 | |
| Cat. 1N | |
| ScanFrame | |
360°

Our virtual showroom

With our 360-degree viewer you get an
all-around view of the product.
Any questions?

Contact us!

Our sales team and the matev dealers in your area will be happy to advise you on our products.